One Small Step for me... One Giant Leap for my Family!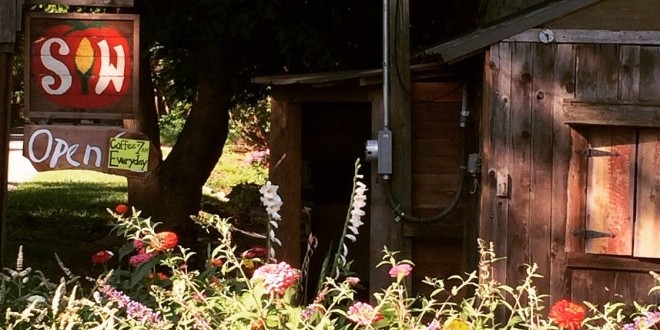 By LL
As I sit here on the eve of my first food challenge of my PBL career... I'm not gonna lie. I'm uncomfortable!
In fact, I keep asking myself why I'm doing this?! Why am I choosing to take a risk, step out of my comfort zone in front of an audience, and drag my family along with me for the ride?
Because it's time! Because I want my family to be healthy ... ALL of us! And I want us to be more conscious about the choices we are making.
V and I have been chatting a bit about what I will take on as my first step towards conscious eating. This one has been tough for me. I was a vegetarian for a while after college. In the past years, I have been deeply impacted by Michael Pollan's: The Omnivore's Dilemma. I've also become a big fan of food writer Mark Bittman and share his concerns not only about the health impacts of our modern diet, but the ecological impacts as well. I have been trying to cut back on the amount of meat in our diet for the past few years and add more vegetarian options to the table. I'm a big grain eater. I love quinoa!! I love oats! I love bulghur & farro. So trying a Paleo lifestyle is going to be a big adjustment on many levels for me. I'm drawn to the focus on sustainability, conscious farming & slaughtering practices, organics... so I know the Paleo consciousness is very in tune with my own. It's just a big leap!!
So how do I pick my first step?
I decided that I should look at everything we eat in a week, and also... what we DON'T eat. What languishes in our refrigerator until it gets tossed or thrown in my neighbor's compost pile? What real-time food decisions are we making on a daily basis? Let's question the status quo a bit in our kitchen...
I was pretty disappointed when I got to the end of the week. Farm stand veggies wilted in the face of another busy evening with everyone running in different directions. Sandwiches purchased on the fly, or take-out for dinner were chosen in multiple instances instead of taking the time to cook something fresh and healthy from our fridge. The biggest problem in MY house right now? Processed foods and pre-prepared meals. The evil twin attached to that... SUGAR!
Holy cow! There are cereals packed with sugar (and these are supposed to be the healthier options!). There are snack bars and pre-blended yogurt smoothies. There is soda in my house!! When did we start drinking soda again?!
Ok... there's a lot to clean up here!
Step One: dump the packaged crap and start cooking real meals instead of grabbing things on the fly. (Does that count as #onesmallstep?!  It sure feels HUGE to me!)
No more bowls of cereal or yogurt drinks instead of a good breakfast. No more pre-fab dinners or lunches. I'm cooking up some of those veggies and organic, grass fed meats!
I'm not ready to knock the grains yet. That's going to have to come later. But I am ready to do a refined sugar clear out in the pantry! I've enlisted the troops... and they are on board. I think cereal will be my husband's biggest hurdle. For my son... soda & ice cream? Not sure. We'll have to see. For me? All of it?! I'll report back and let you know.
To kick us off, my son & I just listened to Nom Nom Paleo's recent podcast about Paleo desserts. It was a great lead in to our month of clearing out the refined, processed, sugary crack in our pantry.  They make great points about the fact that somehow dessert has found a place at every meal... every day!  Sweets used to be a treat for special occasions or Sunday dinners.  How have we gotten so off course?! My son loved the idea that, after our August purge, we only add dessert or Paleo treats back into our diet on "S days," like they mention in the podcast. (I'm hoping we only add them back on holidays & birthdays... but I'm not ready to let him in on that part yet!)  I've done a ton of reading over the past week on Clean Eating & Paleo, and focused in on the debate over Paleo sweeteners.   I already caught an earful from one of my neighbors on the topic.  I can tell this is going to be an interesting ride!
I'll save that for my next post!! Right now, I have a lot of junk to purge from my cabinet, and a week's worth of meals to plan & prep!
Wish me luck!