Earth Angel is Me!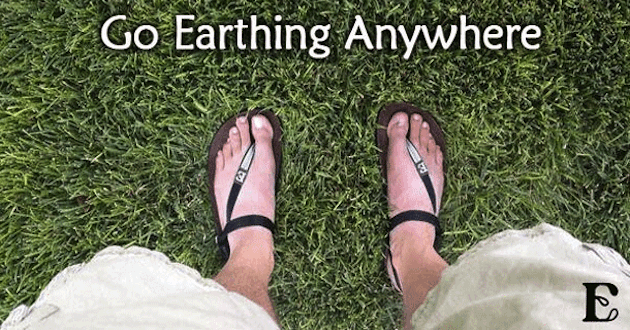 By: PaleoBOSS Lady® Early 2013 Dr. Terry Wahls posted an article about the power of grounding work and how important it was to healing.  Being a Wahls Warrior I quickly added having my feet on the earths soil to my "Bag of Tricks!"
This exercise became a daily ritual that continues to this day!
Why do grounding/earthing work?  In PaleoBOSS Lady® terms grounding work now has become a focused effort for most of us and has to do with the fact that we used to run and play outside barefoot all the time.  If we wore shoes most shoes had leather soles both of which allow for the conduction of energy between the body and the ground.  This allowed for our bodies to live in harmony with the electromagnetic fields of the earths energy through an "exchange and release program." #simplestory
Today seldom if ever are we barefoot or wearing leather soled shoes!  #notagoodlook
Many of us are largely inside  most of our waking day  wearing shoes made with synthetic bottoms.  All of this contributing to our lack of contact with the electrical magnetic waves of the earths energy.
Resulting in energy build up. Build up can only mean one thing: imbalance!
The way I see it is the energy cannot get out or in making for an imbalance that has become a human reality as a result of evolution.  #mystory
For many of us this lack of electromagnetic energy in our lives results in disrupted sleep patterns, aches & pains, low energy & increased inflammation just to mention a few things!  #whoknew
Grounding or earthing changes this reality and PaleoBOSS Lady noticed the difference almost instantly! #knowledgeispower
For the last few weeks I have had the pleasure of wearing the most comfortable grounding sandals ever!  For those of us who cannot seem to find the time to get outdoors and be in nature there is hope!  #EarthRunners
What are Earth Runners: http://www.earthrunners.com
[embed]https://www.youtube.com/watch?v=6Af90ba1z4E[/embed]
I tested the Alpha X which is their newest sandal from the folks at #EarthRunner!  #lovelovelove
A few things I LOVE about this sandal are they are super easy to get on and off, they look awesome and are the most comfortable walking shoe ever!
I just adore a sandal with a back & a comfortable sole which the Alpha delivers! I highly recommend this shoe! 
Runway Raw Paleo Rita & PaleoBOSS Lady® strolling the hood!
I want to THANK the folks at Earth Runner for hearing my love of energy work and asking me to evaluate this great new GROUNDING/EARTHING sandal!  I am honored to share how wonderful the #EarthRunner line of  products are for living a conscious life with style and comfort at the forefront!
BRAVO!!!
I encourage all of you to try these sandals and #GetGrounded!
Hey Hey Hey Hey everyone isn't it time you subscribed to the PaleoBOSS Lady kick ass blog?
You know you want to and it will make you happy! #thankyou